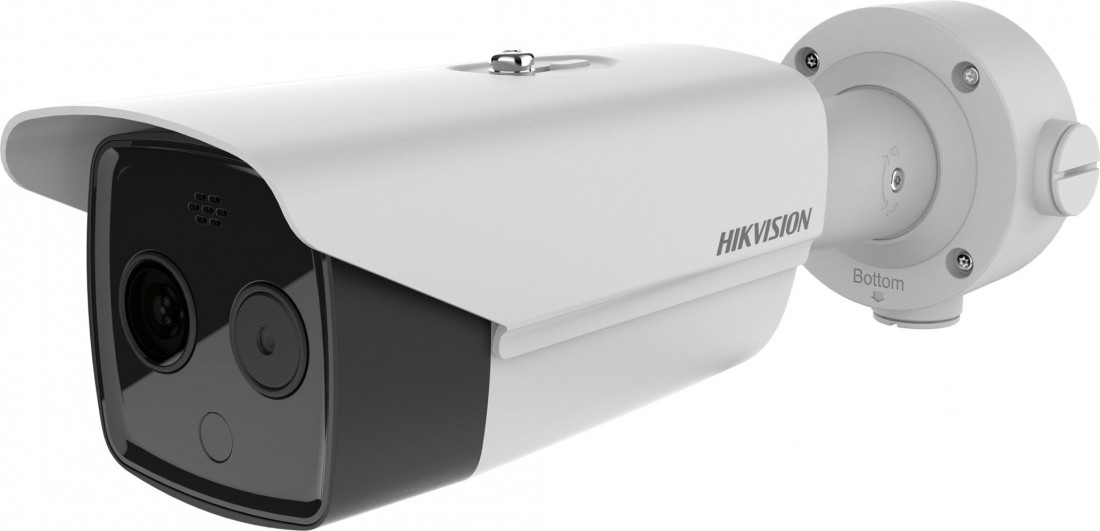 ---
Thermographic Bullet Cameras
Thermographic Bullet Cameras are equipped with highly sensitive thermal and optical sensors and a graphical processing unit to run the video content analysis (VCA) algorithms developed by Hikvision's deep learning technology.
The sensor's 160 x 120 resolution is upscaled to 320 x 240 and features adaptive AGC (Automatic Gain Control), 3D DNR (Digital Noise Reduction), and Digital Detail Enhancement for outstanding image enhancement. The 4 MP optical sensor provides outstanding color video in very dim environments down to 0.0089 lux, and built-in IR illumination allows black and white optical surveillance in zero-light conditions up to 131 ft (40 m).
This camera series is able to measure an object's temperature at a high accuracy in real time. It is suitable for use in areas that require greater security measures such as airports.
160 × 120 Resolution in Thermal Channel, High Sensitivity Sensor
Accuracy at 4.92 ft to 9.84 ft (1.5 m to 3 m):
±0.5° F (±0.3° C) with Blackbody
±0.9° F (±0.5° C) without Blackbody
Reliable Temperature Exception Alarm Function
3D DNR, Image Detail Enhancement
Strobe Light and Voice Alarm
Handheld Thermography Thermal Camera
The Handheld Thermography Thermal camera is specially designed to detect elevated skin-surface temperature with high accuracy in real time. It is equipped with a 160×120 resolution thermal detector. It can be widely used for preliminary temperature screening in office buildings, factories, stations, airports, and other public places.
160 × 120 Resolution
Thermographic Accuracy: ±0.9° F (±0.5° C)
320 × 240 Resolution, 2.4" LCD Display
Built-In Rechargeable Li-Ion Battery
Up to 8 Hours Continuous Operation
Displays Real-Time Temperature on Screen
8 GB MicroSD Memory Card (128 GB Maximum) To Store Snapshots/Data
Supports 4 Palettes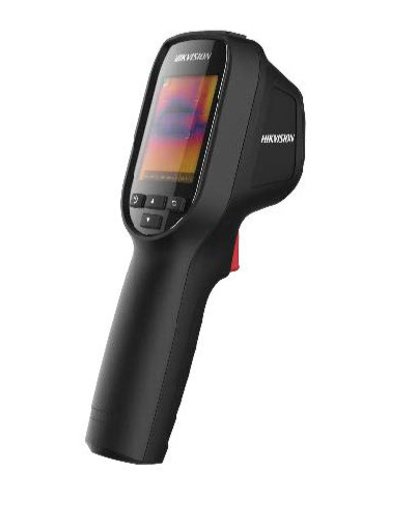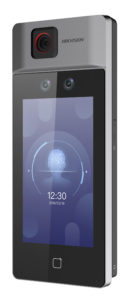 Temperature Screening Terminal
The Temperature Screening Terminal is an access control device integrated with high accuracy temperature screening. It can quickly measure skin-surface temperature and notify the user about abnormal readings. This product is perfect for many applications, including office buildings, transportation hubs, retail facilities, education centers, and many others.
Vanadium Oxide Uncooled Sensor Measures Target's Temperature
Measuring Range: 86° to 113° F (30° to 45° C), Accuracy: ±0.5° C w/o Black Body Calibration
Recognition Distance: 0.5 m to 1.5 m
Fast Temp. Measurement Mode: Detects Face, Takes Skin-Surface Temp. w/o Identity Authentication
Multiple Authentication Modes: Card/Temperature, Face/Temperature, Card/Face/Temperature, etc.
Face Mask Detection: If Maskless Face Detected, Voice Reminder Prompt Sounds

Face Mask Alert: Authentication or Attendance Is Valid
Forced Mask Wearing Alert: Authentication or Attendance Fails

Displays Temperature Measurement Results on Authentication Page
Temperature Measurement Walk-Through Detector
The temperature measurement walk-through metal detector, adopting the thermographic technology, realizes contactless temperature screening. AI detection function of the camera makes an accurate positioning of the skin-surface. The detector also supports metal detection.
It is suitable for safety inspection of dangerous goods and is widely used in public occasions and important places, etc. It is recommended to be used indoor with a windless environment.
Non-contact temperature measurement: face temperature measurement with accurately personnel matching. Temperature accuracy:±0.5 ℃ , detection distance: 0.5 to 1.5 m, target height: 1.45 m to 1.85 m
Temperature filtering: adjustable temperature threshold. An over-threshold temperature will trigger the audible strobe light
Counting display: displays the walk-through people number, metal alarm times, real time temperature, number of people in abnormal temperature
Metal detection: metal like paper clips and other metals
Multi-Area alarm: Indicates the metal position on the body. Max. 18 areas
Modularized component: easy transmission and installation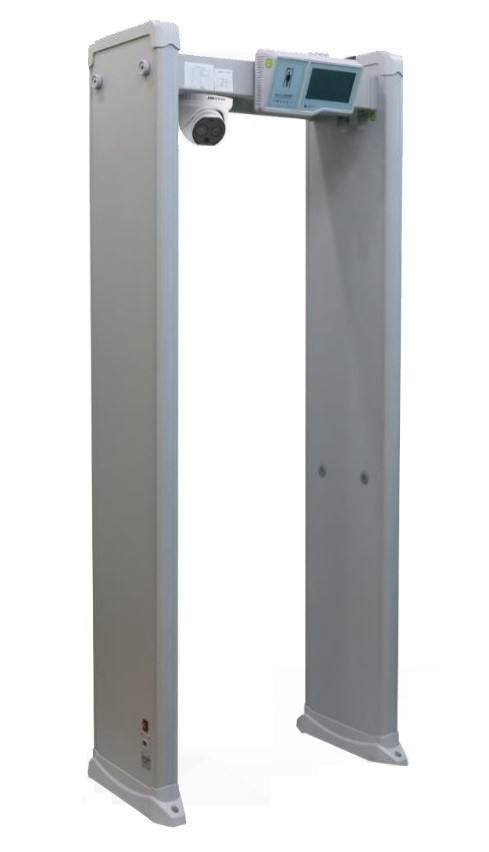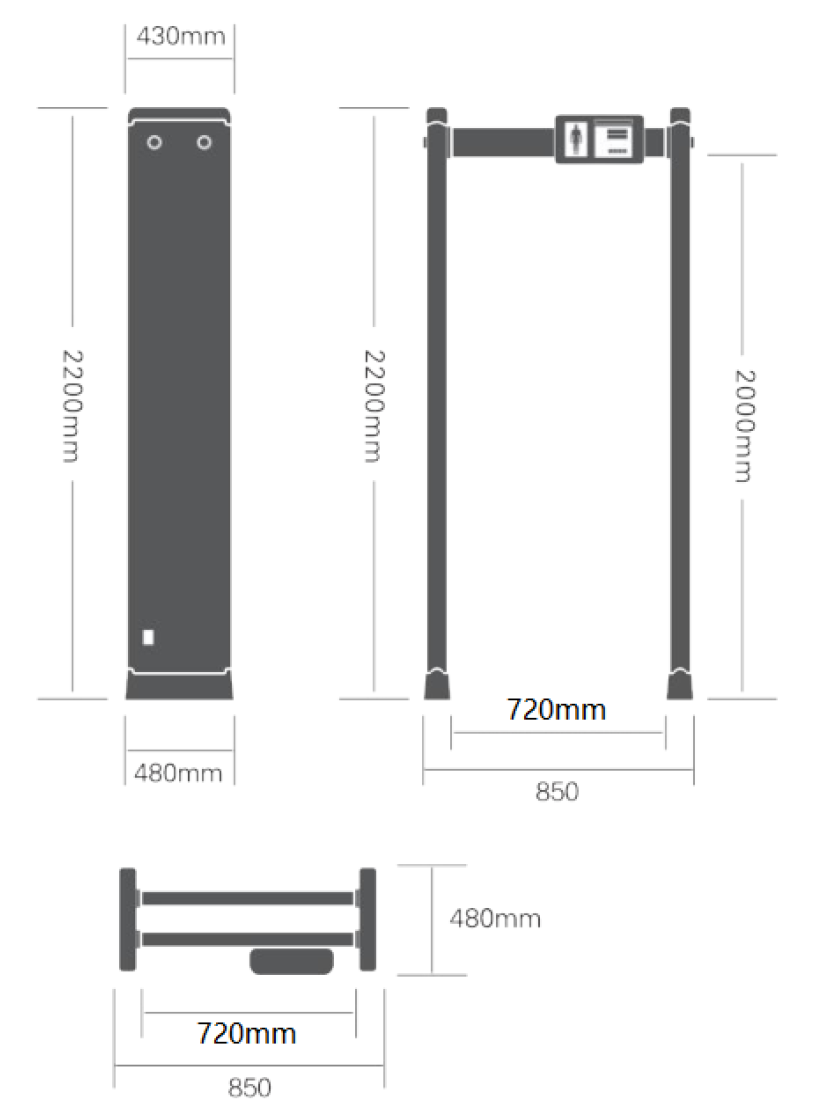 R&B Electronics
Contact us