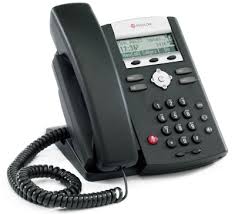 At R&B Electronics, we sell and install telephone systems to fit your needs. We will set up your voice mail system and automated attendant system. We sell and service only the best manufacturer's brands such as Intermedia Hosted PBX and Panasonic. Intermedia Hosted PBX allows small and medium-sized businesses to have a sophisticated telephone system without the investment in telephone equipment. Panasonic telephone systems are designed to streamline communications and make a host of advanced features available to each extension user.
We offer equipment maintenance agreements. Please contact us for details at 800-878-1705.
Why choose Intermedia for your phones?
Intermedia's Hosted PBX service offers a phone system and service hosted completely from the cloud. There's no hardware to buy beyond the phones themselves—and you can say goodbye to the phone company. We cut your business phone bills by over 50% while adding enterprise-grade functionality and improving reliability. Intermedia offers high levels of reliability and support. And we even help you move over your existing phone numbers.
---

Panasonic KX-TDA 50G Advanced Telephone Systems
The Panasonic KX-TDA50G Hybrid IP PBX System is expandable to 8 CO's and 24 physical extension ports or 12 CO's and 20 physical extension ports. The KX-TDA50G is capable of supporting 48 digital KX-T7600 series telephones with the use of D-PITS. The KX-TDA50G is initially configured with 4 super hybrid extension ports and 4 loop start CO ports.
The KX-TDA50G is a converged communication system designed with incredible versatility. It also features caller ID (CID4 card), multi cell wireless with automatic route selection (ARS). It has a USB port for connection to a PC for programming.
Panasonic KX-TVA 50 Voice Processing Systems
The Panasonic KX-TVA50 voice processing system control unit is part of Panasonic's newest generation of voice processing systems. This system is initially equipped with two ports to handle two simultaneous conversations and four hours of recording time and can expand to six ports and eight hours. It provides 64 voice mail boxes of which two boxes are for administrative purposes.
The Panasonic KX-TVA50 uses solid-state memory, i.e., there is no hard drive that could fail. It has a USB port for connection to a PC for programming. It can also be programmed through a local area network (LAN) or the optional KX-TVA296 internal modem card can be used to provide a connection to a remote PC for programming and diagnostics.
For a complete list of features, go to the Panasonic KX-TVA 50 link. (just copy and paste in your browser)

R&B Electronics
Contact us